October 2nd, 2016
You may have heard of those fanatics who never seem content with just going to work and watching TV, or staring at their phones, as the case may be.

"Hanging out" is not a valid activity for the crazy creatives!

For example, there is a guy here on Fine Art America Jeff Folger, who builds cabins, sugar shacks and solar power systems, posts dozens or hundreds of videos about the process, and then shoots gazillions of photos about all that and a lot more to sell on FAA and elsewhere, and that isn't even his day job!

Or you've got people who'll take off on an ice breaker photo safari to the far Arctic (also someone here on FAA Vivienne Gucwa).

Or, you know, in case anyone figured people didn't have enough to do already, yet another FAA member Isabella Abbie Shores came up with the 365-day project-a-day mega project challenge.

Unbelievable. ok if you can't beat them, join them...

My humble project is to do a painting and post it up for auction every day of October. We're two days in and so far so good!

You can follow the action on my personal website auction page...
June 13th, 2016
I started off looking to see if there was a way to do a blogroll in this system.

I do not see it so far. Will search the message board later.

Now let's just say I put one link in the "web link" box. Is it possible to put another link in the text?

For example, I could try my instagram link. I'll try it two different ways:

1. https://www.instagram.com/usedcanvases/
2. www.instagram.com/usedcanvases/

I pretty sure html won't work so won't try that for now...

Here goes...
November 27th, 2015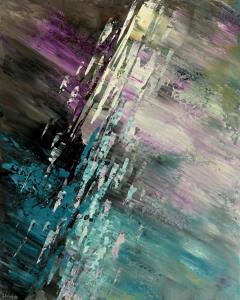 In this post I thought I would try to give some insight into interpretation (or lack thereof!) of my paintings. As an illustration, I used a painting called Over Cosmic Clouds, sold earlier this year, that I have recently made available as a print on Fine Art America.

Like all my abstracts, this work is of course open to interpretation by one and all. There are feelings involved, artist's inspiration, all the circumstances that were in play at the time of painting, etc.

That said, whenever possible, I also like to offer a suggested interpretation.

In this case I've taken the title from the words of the poet Bliss Carman in his Poem Dust of the Street:

"This cosmic dust beneath our feet
Rising to hurry down the street,

Borne by the wind and blown astray
In its erratic, senseless way,

Is the same stuff as you and Ió
With knowledge and desire put by.

Thousands of times since time began
It has been used for making man...."

From that point you are free again to extrapolate as you wish. As a highly visual person, I tend to see most of my paintings representationally, even if such representation was not intended. So when I look at this painting I have no problem imagining soaring through the cosmos uploading particles of inspiration to use in my next creation!!
July 30th, 2015
A reminder to everyone that I welcome commissions and ship my original paintings all over the world.

Last week, for example, I finished a re-creation of my painting, "Felt the Spirit Move", in a larger size, 30" x 60". The new painting will hang in a mountaintop chalet!

You may commission me to paint a re-creation of any of my previously sold or existing works.

Also, please feel free to inquire about new compositions, whether it be a portrait of your country place or an abstract in my style using certain colors that you may have in mind.

Either way, it's always my pleasure to reply!
March 24th, 2015
It seems like forever that I have been painting the four seasons! Even going back to my student years in Russia painting or drawing the four seasons was always a favourite assignment. Then, when I came to Canada, one of my first jobs was creating a set of four seasons paintings of Mont Tremblant scenes for a national company.

Given how much I love to paint nature, it is not surprising that I have painted the four seasons many more times over the years!

Now, just in time for spring, 2015, I am releasing a set of four seasons landscapes prints exclusively on Fine Art America. I will not be selling these prints anywhere else. Of course people are also free to purchase the prints one at a time, also only on Fine Art America. As of now, two of the original paintings, autumn and winter, have been sold. The other two, spring and summer, are still available. Please contact me if you are interested in purchasing.

Please follow my blog for regular updates and information about my work and projects.


March 8th, 2015
Yeah, paint is definitely a radical concept! Nowadays if we want to spam search engines we call absolutely anything a "painting".

If we want to describe an actual painting, we have to specify that it is "a physical object comprised of a substrate and an image, where the substrate could technically be anything at all but is most often a canvas, paper or board... and the image is created by application of one of many varieties of liquid-ish medium, commonly known as 'paint', by a crazed eccentric person (who may have any combination of: a mind overflowing with ideas ranging to no ideas, a lot of talent ranging to little talent, years of training and practice ranging to no training, driven by insane sexual / financial / competitive / creative / survival motivations ranging to totally undriven) literally picks up the applicator tool with their own hand and manipulates the tool in such a way to create the image.
February 14th, 2015
Now comes the hard part - following through on even the three eensy weensy little "promises to self" made in the last blog. Never mind all the rest of my diabolical plans for infiltrating peoples' homes with my art!

Step one - the blog. Even if one doesn't have too much to say, the best thing is to at least put something down. That's about my status today. Just like running. I can understand if someone doesn't feel like jogging but the way to force oneself to not drop it altogether is to at least put on the sweats and go outside, even if you just walk around the block.

What I do have, of possibly more interest, is a new video. This one is a demo of an abstract seascape in speed painting mode. Hope you enjoy it!



Please feel free to mention any questions about the video(s) in the comments, either here, on Youtube or on the message board.

I did manage to lose the previous name on my Youtube channel. It is now "Tatiana Paints".

Happy Valentine's Day to you and yours - have a great day!

December 5th, 2014
I recently added the link to my new website under my bio info. The new site is www.tatiana-iliina-paintings.com. My former (and still existing) site did not seem to have the potential to handle ecommerce the way I wanted. Since FAA isn't really set up for selling originals, the artist website wouldn't have done the job either. I looked at several platforms and finally decided to go with Wix. I forget the exact type but one of the more premium ecommerce levels. Wix seemed to be the only one that allowed me to make custom selling pages, instead of showing all the little tiny product images that the typical ecommerce sites allow. To be honest though, I am not too sure how this is going to work for SEO. Am hoping to be able to drive that with some elbow grease! Anyway, for now I feel like it is a good start. It's been a lot of work and hopefully now that I'm nearing the end will soon be able to get back to adding images here at FAA!
July 15th, 2014
"If I had a single flower for every time I think of you, I could walk forever in my garden." ~Claudia Adrienne Grandi

Like most people, I love flowers! I also love painting them.

I have made a few videos of my flower paintings. This is one of a work in progress enjoy!