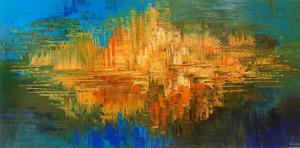 Great news for art lovers! As 2012 is a Leap Year, there has been an extra day made available to enjoy beautiful art!

The Montreal Art Center is taking advantage of the opportunity and is pleased to invite the public to its Leap Year Vernissage and Exhibition, which will be held Wednesday, Feb. 29, from 5 p.m. - 10 p.m. at the MAC Gallery in Griffintown, in downtown Montreal.

Come and enjoy the work of 35+ artists, including painters of many styles, as well as a sculptor, ceramist, jeweler, photographer and others.

The Montreal Art Center is located in the historic Griffintown district in a refurbished former engine works building. Within the center you are able to explore a number of historical and cultural exhibits, in addition to the artwork of the member artists.

The Montreal Art is located on the corner of William and des Seigneurs Streets and is open to the public daily.